Business Collaborations
Goodwill Choice seeks to collaborate with quality brands including Australian businesses &
sellers of quality Australian products & services.
Goodwill Choice is an Australia-wide platform offering you both online & offline (store) sale opportunities:
*a unique & cost-effective way to promote your brand & products/services,
*favourable recognition for your support of communities via your support of great charities & causes including indvidual, school, sporting or cummunity appeals
*Exposure to a greater audience resulting in the high likelihood of new people trying your product/service.
Goodwill Choice is building a diverse audience which includes members of charities.
We encourage our users to buy your products/services to support their favourite charities & causes.
The Goodwill Choice App is free to use and instead of hassling people to help we are rewarding them!
People will buy your products for various reasons:
Goodwill Choice gives them donation money which they can pass onto charities. (THEY CAN ALSO CLAIM THIS AS A TAX DEDUCTION).
Additionally they receive personal rewards from Goodwill Choice which includes free new products, prizes and even the chance to win money.
*We can run fundraising goals on the app requesting people to purchase your products to support a specific cause thus a high chance that members of this charity & others will purchase your product or service. Everybody Wins - the consumer wins, the charity wins and the sellers wins!
Recognition & Reward in 3 easy steps
Step 1: receive our label's (no upfront cost)

Step 2: we promote your products/services & brand on our website, app and via other channels including social media.
(Your products & serices can be online or instore, refer to the Choose Directory section of the website & app which will contain these items and tells people where they can find them)
Step 3: a small fee applies after the product is sold (this allows us to pass on donations to charities via our app at no cost to the charity)
For further information including an explanation of the benefits a Goodwill Choice Partner product will receive please contact us:
Email: partner@goodwillchoice.com.au or fill out the website contact form. We look forward to hearing from you.
Additionally refer to information below.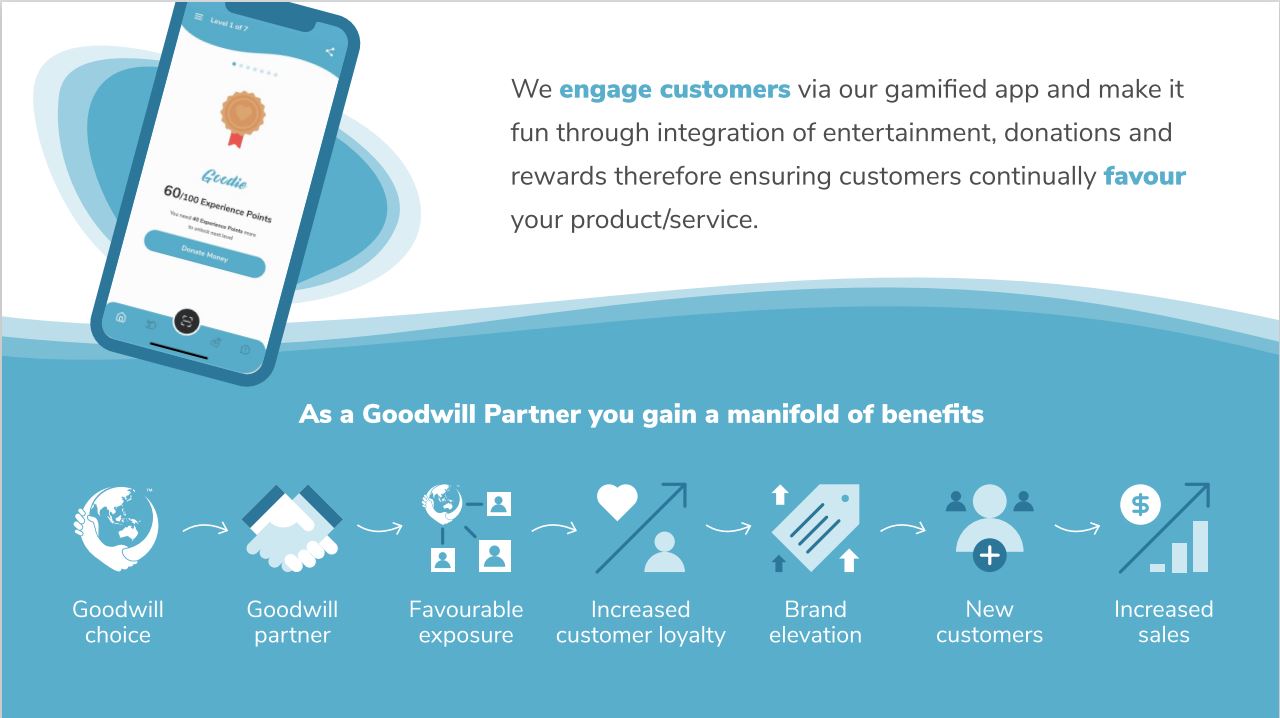 WHAT YOU RECEIVE IN ADDITION TO THE GOODWILL CHOICE LABEL
Merchants (sellers of products or services including manufacturers, distributors, retailers) are charged a marketing fee based on labels obtained however merchant receive more than just a label. In addition to the Goodwill Choice Label Advertising (which includes the attraction & benefit of having visible labels on products merchnats also receive advertising on the Goodwill Choice network and social media coverage in addition to placement on the Goodwill choice Website & App. Note – we bill you after the sale is made littleso what have got to lose!
Goodwill Choice will produce content and advertising created specifically to promote your product & brand on social media channels.

You will receive premium marketing placements and exposure to Goodwill's exclusive accumulative audience. The Goodwill Partner will receive the following and app & website placements:

Listing in Goodwill product directory (Choose directory)

A dedicated page to your product within the directory, per product

Images, logo and short description within your dedicated page

Stockists and stores they disclose that sell your product

A link back to your product website

Bonus points graphic (if opted to purchase 'bonus points' for product)

If bonus points purchased, an extra listing within the application as a featured 'Bonus points product'. The product image will be displayed in a premium position in the "What's Happening" product section

Dedicated page within the Goodwill Choice app

A 'featured product' listing may be negotiated and bought which provides an exclusive placement on Website homepage; Featured products section within App; and Dedicated page within the Goodwill Choice App.

The amount of the partners fee that Goodwill pass onto users to donate (indirect donation) will be displayed on the Goodwill Partner's directory website page and displayed as a total donation amount made by your brand.

If bonus points are purchased, Goodwill Choice may run campaigns around promoting the Partner's product and incentivize people to go and hunt for these bonus points. The bonus points amount is calculated on value of the product and the amount varies on each label. One in every 10 labels will have bonus points if the Partner chooses this option. THIS OPTION IS FREE FOR EARLY ADOPTERS